MR MULLINS BEING PRESENTED WITH THE £500 WINNING SPA BREAK WITH RICHARD, SALES DIRECTOR.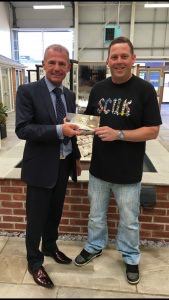 MR MULLINS:
'We required new windows and doors. I looked on the internet and found Newglaze. I phoned up and was invited down the new Poole Showroom as it was their opening weekend. We were pleasantly surprised as the products and showroom looked fantastic (with fantastic staff).
We went on to place the order as great quality of products and no pushy sales staff. We are now awaiting the installation of a house full of windows and doors.'
Thank you Newglaze.
R. Mullins