More Than Just Glass…
If you think a sheet of glass is just a sheet of glass you are mistaken. Over the past few years there have been major developments in glass technology that have totally changed the industry and its capabilities.
The warmth of your home can be dramatically affected by the type of glass you use in your windows, doors and conservatories and this can mean big implicyears of training :Dations for your comfort and wallet! Did you know that modern day double glazed windows are 55% more efficient than old double glazed windows; just think of the difference this can make to your heating bills.
Government Building Regulations require us to save energy to help protect the environment and installing new more efficient windows is an effective way of doing this.
So how has glass changed?
Technically advanced glass is specifically designed to help insulate your home by keeping as much heat inside as possible. Glass of this type is commonly known as thermally insulating glass or low emissivity glass.
A transparent metallic coating on one side of the glass reflects the heat generated inside your house back into the room rather than it escaping through the window.
Clear cut benefits
High performance glass gives:
Better thermal insulation – reduces heat loss and saves you more money on heating bills.
Less of a tint to the glass – allows more light through and provides clearer vision through your window.
Environmentally friendly – less need for heating helps reduce energy consumption.
Less chance of haze – old insulated glass was prone to having a dusty effect because of the way it was manufactured.
Self cleaning glass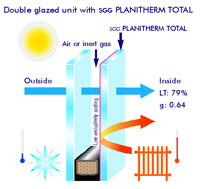 Wouldn't it be great if there was glass that didn't need regular cleaning? Good news…there is!
The latest innovation to be introduced to the industry is new self cleaning glass. A special coating applied to the glass causes water to sheet off the surface leaving a clean exterior with minimal spotting or streaking. Using daylight UV energy, the surface on the glass gradually breaks down and loosens dirt, allowing it to be washed away by rain or hosing.
Save yourself time and hassle by asking your installer about having self cleaning glass.
Condensation