Sherborne Plus Designer Conservatory
Sherborne plus is the first step of upgrading a conservatory by incorporating LivinRoom, the insulating perimeter ceiling pelmet to improve thermal performance and give a more 'room like' appearance from the internal plastered finish.
Features & Benefits
All the regular features of a conservatory, but even better summer and winter comfort.
The inclusion of the plastered perimeter ceiling – LivinRoom pelmet – automatically improves thermal performance, with the option to make it wider and completely fill with mineral wool insulation.
This gives the appearance of a 'real room' particularly with the fitment of spotlights.
Abundant other options – some internal like the centre ceiling LivinLight – and some external like colours & Cornice – further personalise your living space.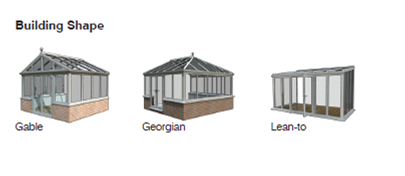 Roof Choice
Classic PVC
Classic Aluminium
LivinRoom – Standard perimeter ceiling pelmet – 450mm wide, filled with 100mm mineral fibre insulation.
Ultra83B High Performance – the best UK roof glass – 1.0 U Value.
Window Choice
High performance 0.8 U value glass.
Optional Extras
Wider Ceiling Pelmet – LivinRoom.
Cornice.
Centre Ceiling – LivinLIGHT.
Information
To enable easy comparison of energy ratings, each building type's thermal performance is based on a consistant footprint of 4.3m wide x 3.4m projection.
Ultraframe's U-Design software is the final arbiter on specification and thermal performance.
Your Newglaze representative will discuss the finer points of design and specification.